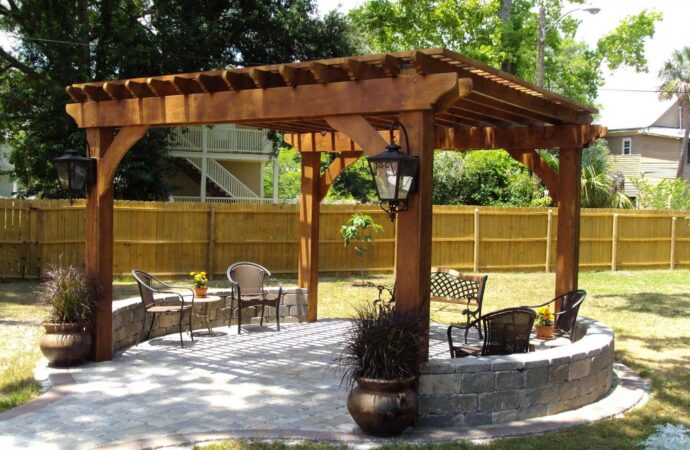 Do you wish to have a Pergola of your own? Fun fact. Did you know that having a Pergola on the premise can increase the value of your home? Not only that, but it can also improve your living experience. So, what needs to be done when building an Outdoor Pergola?
Before beginning, you would need to be aware of the frost dept. You may be wondering, why is frost depth important. And how is it associated with wanting to build a Pergola? Well, when having the support beams inserted, the support beams would need to be below the frost level. If not, the whole freezing and thawing process will eventually cause the support beams to thrust up, which then ruins the entire structure of your Pergola, deeming it unsafe.
Once that is done, you may want to consider the materials needed to build your Pergola. For example, would you be using cedar? Or perhaps pressurized pine? Or some other kind of wood. Besides, you may also want to consider having a canopy to protect your Pergola against the hot summer days, or a rainstorm.
Does that seem complicated to you? Do you have the time, resources, and energy for the entire project? Or perhaps you do not even know where to start and how to start. Don't worry. That is exactly why we are here. So, who are we, exactly? We are "Sugar Land Landscape Designs & Outdoor Living Areas".
Our team consists of individuals who are creative, committed, and easy to communicate with. If you already have a design in mind, let us know, and we will begin with the measurements and identify the materials needed to build your Pergola. If you don't know your frost depth, it is alright, we will support you in finding the measurements for your frost depth as well. Feel free to always approach our team should you need any clarification on why certain material was chosen over the other. Our team will be most happy to support you end-to-end on this project.
What are you waiting for? Get in touch with us now to secure a slot with us. The only landscape company you will ever need.
Here is a list of our services you can get at Sugar Land TX Landscape Designs & Outdoor Living Areas:
We service all of Texas. Below is a list of cities most of our services are at on a daily basis: