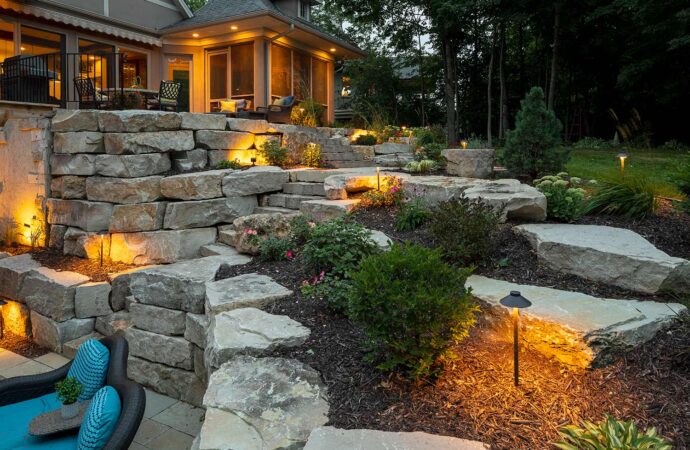 Are you thinking of having landscape lighting installed in your yard? To be honest with you, adding lighting to your yard can make a noticeable difference. So, where to begin? We would first need to identify what exactly would you like to have light. Maybe you would like to have some lighting surrounding your pond or swimming pool? Or perhaps you would like to add garden lighting? Psst. A tip for you would be to have lights installed onto something you would like to show off, especially at night. How about having your walkway pavement lighted as well? It would give your visitors a glow-up effect, showing them the route which they should be walking.
Are you feeling intimidated by the project? Don't worry, you are not alone. Allow me to introduce ourselves to you, we are "Sugar Land Landscape Designs & Outdoor Living Areas". We promise you that you will never have to walk this path alone. We can be your light, guiding your way. But let's be real, we are not only going to guide you, but we will also be executing this project for you. So, sit back, and relax while we light up your landscape!
We will also be helping you to choose your landscape lighting. There are various types of lighting effects that we can play around with. For example, Uplighting. This is the most basic type of landscape lighting. It is usually used when lighting a taller structure.
To reach this effect, we can consider using Spotlights or Well lights. Besides this, we can also opt for effects such as silhouettes. Similarly, spotlights or wall lights are required to make such an effect.
There are many kinds of lighting to choose from and therefore we would need to understand what kind of feeling you would like your landscape lighting to emit. Then, we can further discuss or advise you on which would be the best option. Rest assured that you will always have the final say, we will merely be offering our professional opinion. We will proceed with only what you have approved us to proceed with.
What are you waiting for? Get in touch with us and have your slot secured with the only landscape company you will ever need.
Here is a list of our services you can get at Sugar Land TX Landscape Designs & Outdoor Living Areas:
We service all of Texas. Below is a list of cities most of our services are at on a daily basis: